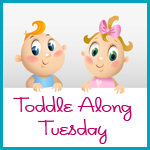 I was so excited to see that this week's
Toddle Along Tuesday over at Growing up Geeky
is all about quick and simple meals.
My number one go-to simple meal is chicken pot pie. It's a family favorite, and rotates through our dinner repertoire several times a month.
Before I share the recipe I need to share the back story of how this recipe came to us. After all, don't all good meals have a story?
For those of you who don't know, we live on a college campus. My husband runs several residence halls and manages a staff of resident assistants. When Stephanie was born, one of those RAs, J, brought us a pot pie. When Dan told me she was making it, I said "I'm not a fan of pot-pie but I'm desperate for a hot meal, and it was so sweet of her to make for us!" And then I ate it, and realized what I had been missing all these years. The fact that J made this for us and shared her recipe with me ensures that she will always top my list of awesome people who made those first weeks of new motherhood more bearable!
It might not be the healthiest meal, but it's hearty, can be put together in less than 10 minutes, and is a "fix it and forget it" type of meal. I've since passed the recipe along to my sister, my mom and my best friend, all of whom make it frequently now. Stephanie gobbles it up, and it's a great way to get extra veggies into her. After Joseph was born,
my sister
made one and brought it to us, sealing it as our family "when a baby is born you bring it" meal. It was also the first meal I made for us when Dan went back to work after his 6 weeks of family leave.
The best part of this meal is that I can put it together at nap time, or even the night before. Then I just throw it in the oven an hour and fifteen minutes before we want to eat. So simple!
Ok, I've sung the pot-pie praises enough, now to the actual recipe!
Ingredients
- 1 or 2 boneless, skinless chicken breasts
- .5 of a 1lb package of mixed vegetables
- 1 can of diced potatoes
- 2 cans of Campbells cream of chicken soup (I use the 98% fat free kind)
- 1 refrigerated pie crust
Directions
*Mix soup, vegetables and potatoes together in a pie plate
*Dice the chicken into small pieces. Add to the soup mixture.
*Roll out the pie crust, spread on top of the pie plate, and cut a few slits in top for the steam to escape
*Bake in a preheated 350 degree oven for one hour. Take the pie out to cool for about 15 minutes. Dig in and enjoy!
*Tip: I bake my pie on a cookie sheet lined with foil. Sometimes it leaks, and this prevents a mess in the oven.
This is what's left after the 3 of us attack our meal on pot-pie night. (It's just as good leftover, and makes a perfect lunch!)